Wedding Officiant ~ JP
Weddings ~Elopements ~Renewal of the Vows
~Unique Ceremonies
I am a Justice of the Peace serving HRM as well as Colchester County, N.S.

What makes the difference between a decent wedding and an amazingly beautiful wedding?  It is whether or not the wedding ceremony reflects your love for each other to the other as well as to your guests and family regardless of whether it is elopement style or not.  Magical moments and those personal touches are what makes your wedding, YOURS!
Together lets create a totally unique with a personal touch or two to your ceremony, whether you desire a theme that is fun, romantic, traditional, out of the box or in it, classy, sassy or a combo.  Although I am not a wedding planner per se, I have many offerings, ideas and suggestions to guide you on your way.  There are so many interesting pieces we can add to your day to co create something personalized.  Or, we can just do the vows and get 'er done too!  Your day is all about  you and exactly what you would like it to be.  There are no surprises on your day as I interview you in person ahead of time to find out what you would like. I type it all out, pretty much word for word as to what will happen on your day, email it to you for you to tweak and tweak again till it represents you and your partner and your relationship. It is a moment in time. 
I also offer you unlimited phone and email support ahead of time so you are never wondering or worried.  Your ceremony is a big part of your wedding itself.  Lets make it stress free.  Lets create with ease and joy and beauty!
I am also a Joy of Living Life Mastery Coach as well as an advanced energy healer.  I facilitate people to empower themselves, to have ease around pretty much everything.  This even includes your wedding day!
I remember one wedding, just as the bride was about to walk out into her special day, she froze! "I can't walk out there in front of all those people".  She started to have a minor anxiety attack…she knew that I have been an energy healer and teacher since the early 90's.  I asked her if I could touch her…within less than 3 mins, she asked…'what did you do, I feel totally relaxed and ready'.  And the rest is history.  Creating more ease, joy and beauty for others is really fast and effective when you know how!
If you are looking for a Justice of the Peace who can even create that WITH you…contact me.
What else is possible for your special ceremony as a celebration of your love for each other?
Ready?  Set?  Lets create something magical!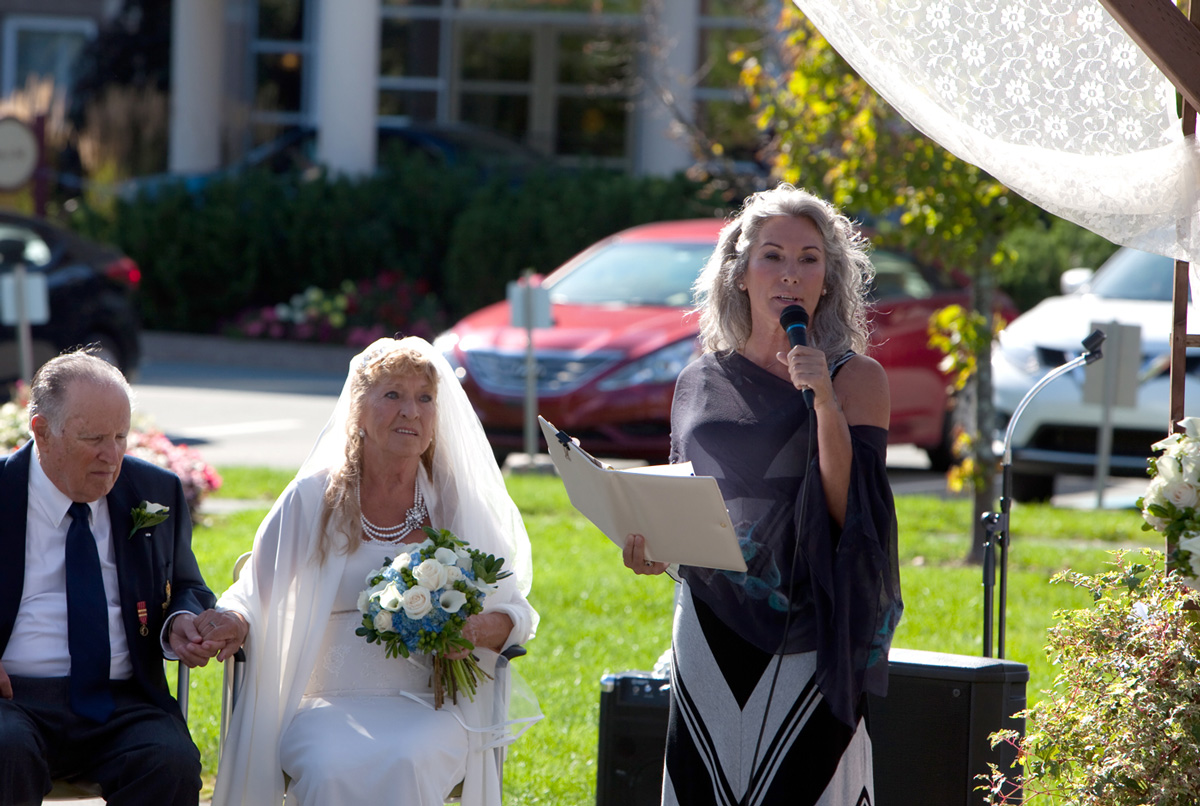 − What I Offer −
Phone and Email Support
Personal Meeting with you and your partner to go over details
Lots of ideas of different ways to make it incredibly personalized
The Wedding Ceremony itself
Transcript of your ceremony from beginning to end for you to keep
Relaxed Rehearsal
Professional Delivery of your Ceremony
Mailing the Marriage License within 48 hours
Travel to your Ceremony Location (additional costs for travel)

Testimonial

Book with Kim. Stop the JP search! This is a no-brainer, and a choice you sincerely will not regret.
We found Kim by doing a search of JPs in the Truro area. To be honest, we sent around quite a few e-mails to JPs on the list because we were short on time.
From the beginning, dealing with Kim was different than everyone else. Many JPs answered our e-mails to signal their availability but, Kim was one of the only who went above and beyond by offering solutions immediately. She made herself available for subsequent phone calls, and we were meeting in person only a few short days after our first e-mail exchange!
Getting married in COVID times meant that our plans were in a state of disarray. We came to Kim with a half plan, not entirely sure of all our details. She guided us through the process, and helped us tailor our ceremony to our (ever-changing) needs. She was kind, flexible, but at all times professional. We are so lucky that we had the chance to work with her. Our day was everything we could have imagined, and this was in no small part because of how helpful Kim was in helping us see our vision through.
She met with us to go over some initial planning, stayed in touch on our agreed upon timeline to make sure the day was coming together, she showed up remembering every little detail (this was that much more appreciated since we were in a frenzy and were likely to forget things), she entertained our guests before we arrived, and she performed the most beautiful ceremony we had ever witnessed. When the ceremony was over, she gave us hugs and gave us our space to enjoy the remainder of the afternoon with our loved ones.
She made the entire process easy, and it was nice to have someone to rely on. She definitely goes out of her way to make sure her clients visions are realized, and she's super sweet & fun to be around, too!
From the bottom of our hearts, thanks for everything, Kim!
-Love,
Emily and Savannah Dewolfe
September 1, 2020